UK Vaping Industry Association (UKVIA), the #1 trade association for the vaping sector, has announced that ICCPP Group has become a full member of the association. We are delighted to demonstrate our commitment to being at the forefront of the vaping industry's positive transformation by joining the UKVIA.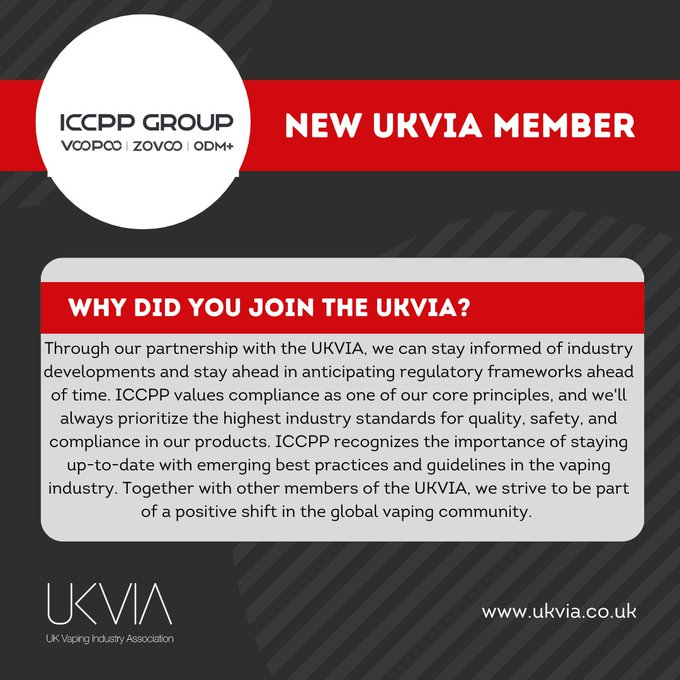 A representative for ICCPP commented on the company's decision to join UKVIA, stating: "Compliance is integral to our mission and values. Our membership with the UKVIA is perfectly aligned with our long-term commitment to contributing to the vaping industry and serving society through the promotion of safe, legal, and innovative vaping products. By aligning ourselves with the leading industry association, we can exchange reviews, gain insights, and collaborate with other members on industry-specific issues. Partnering with UKVIA marks a significant step to ensure that our efforts are more effective and far-reaching."
UKVIA has also welcomed the decision of ICCPP Group to become a full member of the association. John Dunne, Director at the UKVIA, said: "With over 100 member companies, the UKVIA is the largest and most successful trade body for the UK vaping sector and recognised worldwide. The addition of yet another responsible, powerhouse company like ICCPP and its brands further cements the UKVIA's position and allows us to continue to raise standards not only in the UK but globally. We look forward to the input the ICCPP team will have and to sharing our best practices with them."
ICCPP's membership in the UKVIA marks a crucial step forward in our mission to be a respected and responsible member of the global vaping community. Both entities share a common goal of promoting responsible regulation and the development of a sustainably managed electronic atomization market.