Today, ICCPP ODM+ unveiled its GENE TREE ceramic coil mid-to-large capacity electronic atomization product solution at TPE2023 in Las Vegas to the world for the first time. With MEGA's superior appearance, unique flavor and excellent taste, ICCPP ODM+ booth was packed with people and became "The King of Popularity" on the vape show.
Ceramic coil is one of the most exciting inventions in the atomization industry by redefining product performance, product safety and user experience. ICCPP ODM's GENE TREE nano-microcrystalline ceramic coil technology leads to a new lifestyle of powder-free and environmental-friendly with the characteristics of ultra-high atomization energy efficiency, pure and smooth taste and continuous flavor without decay, etc. It has been widely used in the disposable pods and pod systems and is favored by vapers worldwide, as it is demonstrated at TPE2023.
Mega: Good to Great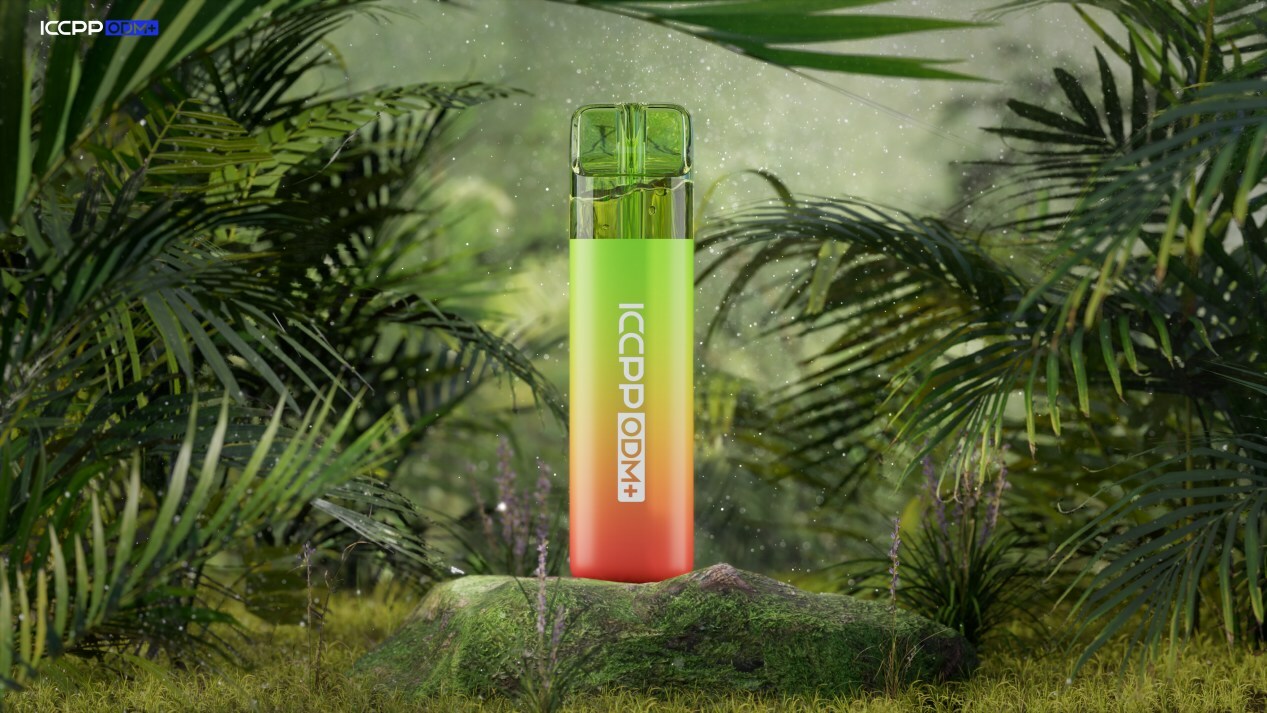 ICCPP ODM+ brings Mega, an unparalleled ceramic coil mid-to-large capacity disposable vape solutions to American closed disaposable pod markets according to the distinctive puff, taste, and flavor preference of American adult vapers.
The creative visible e-juice tank in Mega real-time displays the remaining amount of e-liquid, so that consumers can say goodbye to oil shortage anxiety.
Mega uses the exclusive GENE TREE ceramic coil technology, with powder-free eco-friendly advantage, produces more smooth and delicate aerosols, giving vapers a premium vaping experience of purity and harm reduction.
Because of its ergonomic duckbill design and full of symmetrical aesthetics of body structure, vaping from both front and back side of Mega does not affect the taste. With its 380mAh large battery and Type-C charging port, you feel no inconvenience to charge at any time any more.
5.5ml of vape oil (actual oil) of Mega can support more than 2000 puffs, which means that you can enjoy double puffs with the same amount of e-juice in caparison with cotton coil products. That's really a huge appeal for any vaper. No wonder users on the site exclaimed, "What a great vape! It's perfect and beyond all my imagination."
Blade X: Slice, Smooth and Supreme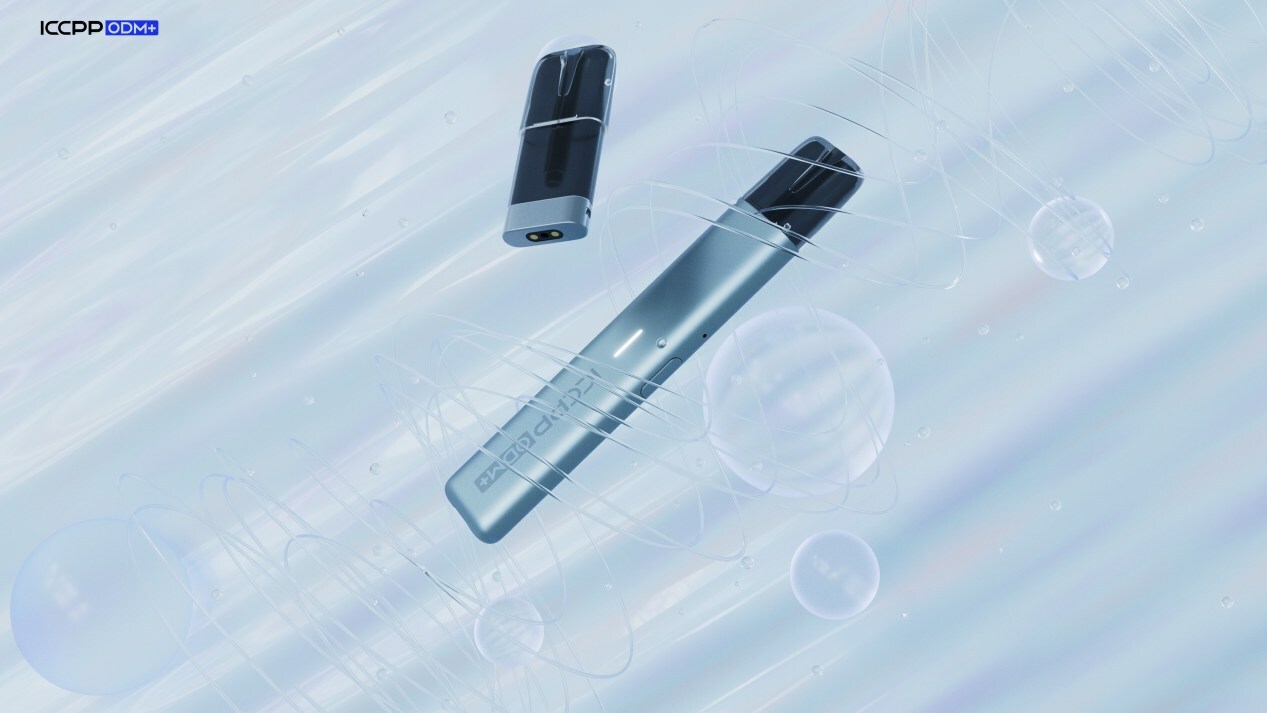 Blade X, world's 1ST nano-microcrystalline powder-free ceramic coil ultra-thin pod system solution of ICCPP ODM+, not only has all advantages of ceramic coil series, but also upgrades user experience.
Blade X's creative ultra-thin magnetic pods and patented leak-proof and condensation proof structures create a uniquely smooth and finesse taste experience for vapers. The patented anti-dry burn design of Blade X eliminates the risk of dry burning for more original and purer taste experience.
With 8mm thin, sleek and rounded metal body, Blade X uses sandblasting and oxidation process to strengthen the concept of "slice" and is equipped with 4 intelligent led breathing lights for power display, over pumping reminder, over temperature protection and abnormal reminder, redefining sense, simplicity, intelligence and fashion.
Blade X's disposable Type-C charging design is also convenient and its built-in OVP and OCP electrical protection make vaping safer and more secure.
GENE TREE Special Edition: Slim and Mightiest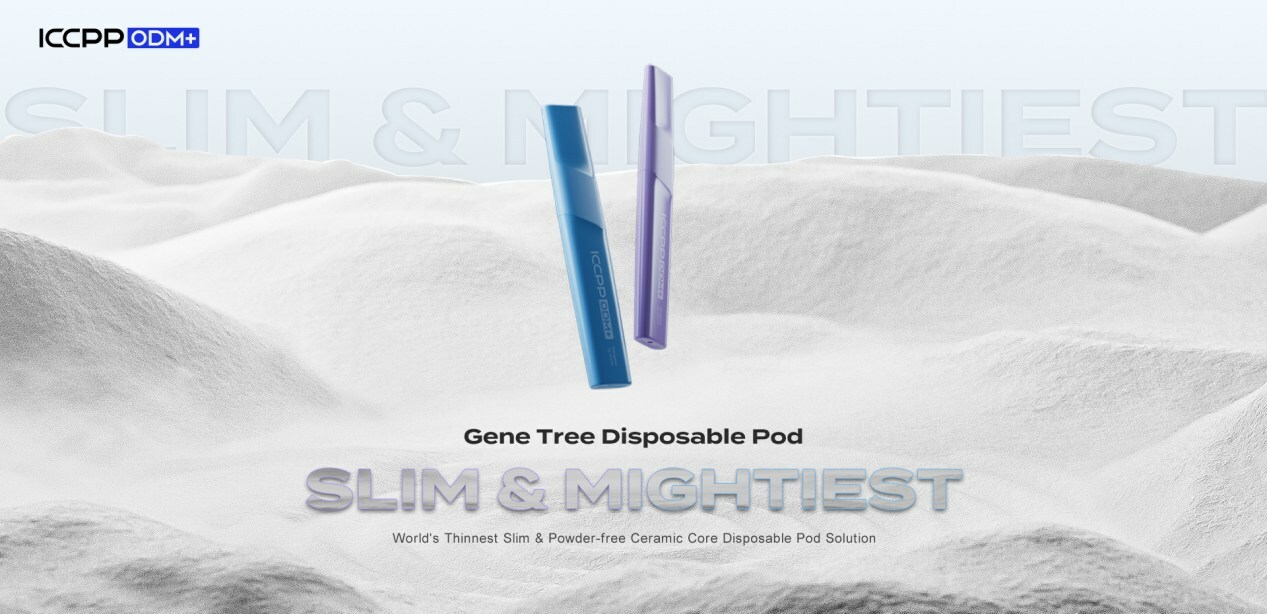 GENE TREE Special Edition, the mini-sized and mightiest GENE TREE disposable pod was the first ceramic coil disposable solution of ICCPP ODM+, and delivered a revolutionary and supreme ceramic coil product experience as soon as it was released.
Benefiting from GENE TREE ceramic coil technology, GENE TREE Special Edition is one of the thinnest 3mm fashion pod for any occasion. Inspired by the French trendy "Macaroon Colors", the first batch of 10 flavor pods stimulates your sweet memories for every vaping.
With an average output of ultra-low 3.5W, GENE TREE Special Edition breaks the limits of efficiency conversion and achieves 700 puffs via a 2ml e-liquid volume, increasing by 55% Compared with others.
Gene Tree Special Edition, twice the aerosol concentration, produces aerosols with a median particle size as small as 0.55 micrometer and has access to get a stronger sense of satisfaction; it also increases the flavor consistency to 96%, preserving the flavor without decay after 700 puffs.
Combined 2ml GENE TREE ceramic coil disposable pod and pod system solutions and up to 5.5ml larger capacity disposable solutions, ICCPP ODM+ has in fact become one of the leading vape odm providers with full range and category of ceramic coil product solutions.
ICCPP ODM+'s branded and serialized service strategy has been proven in its various product solutions and sets off rounds of ceramic coil booms in the electronic atomization market. But it is just the beginning.
In the future, ICCPP ODM+ will continue to uphold the user-centric philosophy, to develop GENE TREE ceramic coil technology and to upgrade vaping experience, then bringing more humanized and harm reduction ceramic coil product solutions for global e-cigarette brands and vapers.